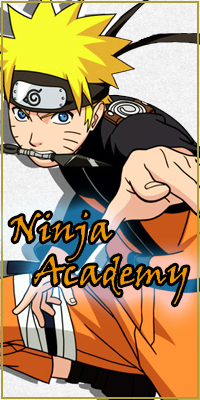 (Click the image)
Duration: July 2004 - Current


Ninja Academy is a text based role playing community that I have been the head administrator of for over five years now. I believe the best way to introduce it may be to simply give the description, found on the 'about' page of the website.


"Ninja Academy is a non-profit fan made role playing game based off the popular anime/manga Naruto. You can customize and create your own ninja and live in the world of Naruto, making your own story as you go along. At Ninja Academy, or NA, one of our focuses is to allow our members too be able to customize just about anything for your ninja. You can create custom techniques, skills, weapons, armors, clans, etc. This gives for a much more fun and exciting role playing environment. We also have a very well put together battle system, allowing for fun and fair battles. There are seven villages, all of which interact with each other and have a certain unity within each. You join one of the seven villages and start there, once you move on in the RPG you can spread out to other places and travel to visit other people.

NA also has a standard XP leveling up system, so the more you do and the more you train, the stronger you can become. So the harder you work, the faster and better you can progress as a ninja. If you are into Naruto and are looking for a good place to RP your favorite anime/manga world, you came to the right place as we are the #1 Naruto RPG on the net."

In early 2004 when the community had just started and was merely a place to discuss anime/manga and preform loose role play, I saw the potential for much more out of the game. At that point there were no rules, no stats, nothing governing what a character could do or how they could interact. This is usually all fine for a community to just have fun, but for a lasting community we needed to become more in depth. Since then I have created, added and modified the rules of Ninja Academy multiple times, always changing and learning from mistakes as me and my staff of ten moderators work to improved and run the site from day to day for our hundreds of members.

The site includes a set of stats for your character, twelve in all, which make use of a battling and leveling system that fairly allows players to interact with each other on many different levels. All chances of luck, which are determined by the roll of a die, are made on our own server and logged in a file online that is viewable by anyone, which prevents cheating. However, the most enticing portion of this game is that all of the content for your character, from their character sheet, to their techniques, skills, clan, bloodline, pets, summons, and items, are all created by the user and approved by staff. This makes each character unique to the player and allows for our members to be as creative as they want. Of course, along with this much creativity there are a strict set of rules that govern the mechanical side of all of these, and the members are given access to all of these rules and allowed to bend, manipulate and even sometimes break them to make their own creations. Myself and my moderators go over and give approvals to these creations as people submit them to make sure that each one is made fairly so that when players interact they are both having fun. Obviously this takes a lot of thought experiments and testing, as we have to make sure that things interact fairly and are not used in conjunction with other approved abilities to create unfair or more importantly, unfun conditions.

Of these rules, I have no hesitation is saying that I have created, combed over and personally written 95% of them from my own head, drawing inspiration from many games and sources. If you even just briefly look over the site linked above you will see that there are literally pages upon pages worth of rules and information available to the player. However, to keep new players from being overwhelmed, we have a large set of pre-made techniques and skills that they can choose from, along with multiple more member creations for them to pick through and use for themselves (If that member allows them of course). With pre-made creations at the ready, they only need to look over the core set of rules, being the battle and leveling system and general rules.